Team Andy's at YOUR Service...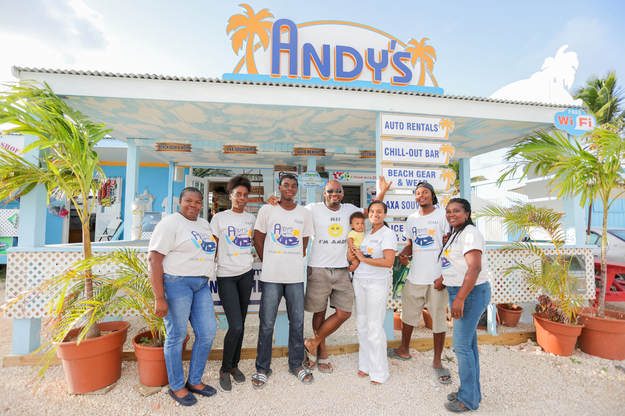 Andy's Auto Rentals has been around before Andy himself was old enough to obtain a driver's license (which is 18 years in Anguilla). Andy started out by turning his own personal car into a rental; thinking it was a great idea to rent his car only to day trippers that came over from St. Martin. He worked at the ferry all day and had no need for his car. By days end it would be back in time so Andy could go out at night and party if he needed to.

​One thing lead to a next and just like that Andy's Auto Rentals emerged to be what it is today. We now have "Team Andy's" - just a few extra great people to make your initial experience in Anguilla pleasantly wonderful! When you happen to see Shemar, Omar, Lesette, Ronya, Steva or Debra, just shout "Hey, go Team Andy's" and you'll be officially a part of the family!
The guy named ANDY...

Born and raised in beautiful Anguilla, Andy has seen the sun rise and set for many years and plans on doing the same for many more to come; he has no intentions of going anywhere.

One short way to describe Andy, a local Anguillian, is as a down to earth guy who's not afraid of getting his hands dirty to make your vacation a better one. Andy is blessed to be a part of this special 35 square mile island surrounded by beautiful beaches, great friends, family, and loved ones that fuel him to be the person he is today.

​Never closed for business, he can be anywhere on island within twenty minutes or less. Andy is more of a friend than a businessman to his guest. That's the kind of guy you'll meet upon your arrival on Anguilla.

A message from Andy for YOU...

To one and all, I am aware of the fact that you do have other choices in renting your car and you choose me. Thank you and I really do appreciate your business. In return, I promise to do the best of my ability to make your vacation time spent on paradise island (Anguilla) one of the best times you spend away from home. My goal is very simple: to get you here and keep you coming back as much as I can. I am just being myself by being honest with my customers (honesty is the most important factor in business) and I do what I say when I say it will be done. The good people and the great beaches will take care of all the rest. I'm sure you'll be back for more!Also, if you are celebrating a birthday, honeymoon or anniversary, I want to celebrate with you! Just include a note in your rental reservation that you are celebrating and I'll have a small surprise for you! Thank you and have a great day!

---
---
---
Reviews



•

Visit and like our Facebook page!

---

Talk about us via Google Reviews!

Features

• Andy's Auto Rentals was featured in The Anguillian local newspaper in the Chamber of Commerce Business Column. Go Team Andy's!

Publication

•Andy is a contributing author for Design Anguilla magazine. Check it out below.