All vehicle rentals include Unlimited Free Mileage, Free Island Road Map, Free Emergency Roadside Assistance and Free Delivery*

Daily Pricing and Weekly Rates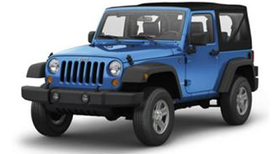 Jeep Wranglers (2-door soft top)
​
$60/day or $420/week
Insurance (optional) | $5.00 - $10.00/day based on vehicle type.
During Low Season (May 1 - November 1) insurance is included for a rental of one week or more except for special offers.

Temporary Drivers License |
$15.00 Government Tax for rental of 3 days or less
$25.00 Government Tax for all others (license valid for 3 months)
​
*For your convenience, all vehicles can be delivered anywhere on island or at any port of entry free of charge once rented for 3 days or more. A $10.00 delivery and $10.00 pick-up fee will apply for delivery of vehicles rented for 2 days or less.

​*There is a 5% credit card fee added to all rentals paid via credit card. Cash payments incur no additional fee.
---
​Chairs & Umbrella
With more than thirty (30) white sand beaches you need to have beach gear of some type! Andy can arrange this portable equipment for your island travel extravaganza! For $10.00 US a day, five (5) days or more $8.00 is the charge, this deal comes with two (2) chairs and an umbrella.

---

Snorkeling Gear
​On this beautiful island with more than fifteen (15) amazing underwater snorkeling sites, why not go snorkeling? Andy can rent you this equipment for $10.00 a day. If rented for five (5) days or more, $8.00 a day is the charge.

​

Cell Phones
No roaming fees and free international and local incoming calls! For $5.00 US a day or $30.00 US a week, Andy can have a phone waiting for you! Outgoing calls are about $0.50 US a min. Mondays to Fridays 8:00 am to 6:00 pm, weekends and other times are $0.40 US a min.
Vehicle Rental Policy
Days will be computed on a 24 hour basis and extra hours will be computed at hourly rates until the equivalent of the daily rate.
Vehicles should be returned with the same amount of fuel it was rented with on contract.
Upon returning vehicles, the date, time and place should be confirmed with our rental office.
Additional drivers must have a temporary driver's license and must be older than twenty one (21) years.
Upon return of vehicles, inspection checks will be made by the agent to make sure there are no damages that are not included on the rental contract. Additional damages will be assessed and charges will be applied.
Excessive dirt or trash found in the vehicle will incur an excess cleaning flat fee of US $15.00 per vehicle.
Lost or damaged car keys will incur a fee depending on the type of vehicle and charges for key replacement.
Complimentary: Unlimited free mileage; free delivery and return; free road maps; Emergency Road service. Gasoline is not included in the rates.
Rates are subject to change without notice.
Failing to return the stated amount of fuel will be charged to the customer at a rate of US $8.00 to US $9.00 per 1/4 tank.